Dr. Peter L. Rich, O.D.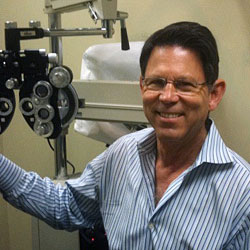 Dr. Peter L. Rich graduated from UCLA in 1968 and Southern California College of Optometry in 1972. He worked for other eye doctors for seven years before opening his first office in Newport Beach. But after twenty successful years of helping beach city patients, Dr. Rich moved his practice to the new Town Center in the fast growing city of Aliso Viejo.
Dr. Rich's primary area of expertise is contact lenses, having worked for Optometrists and Ophthalmologists as a contact lens specialist. With today's contact lens technology, he feels that almost anyone can wear contact lenses comfortably – even those who've had problems in the past.
OUR STAFF
PATTY has been a professional optician in Orange County for over 20 years. She loves taking care of patients. She specializes in helping her patients choose the best lenses and frames to maximize their vision and comfort. When not at work, she enjoys spending time with her two daughters.
SANDY has been an optician in Orange County for over 25 years! Originally from the suburbs of Chicago, she brought her Midwest charm to Southern California. She loves to get to know her patients, and uses her personal connection to help them choose the best frames for their everyday use, sport, or sunglasses. Sandy has taken many classes in optometry that help her choose lenses that provide optimum vision and comfort. She also likes to help patients find eyewear that shows their personality! It is easier for our patients to wear glasses that make them feel special. When not at A.V. Eyes Optometry, she and her husband love to travel. When not traveling, you can usually find her working in her backyard garden. Sandy is a Grandmother to 6 grandchildren, who keep her and her husband busy and on their toes!